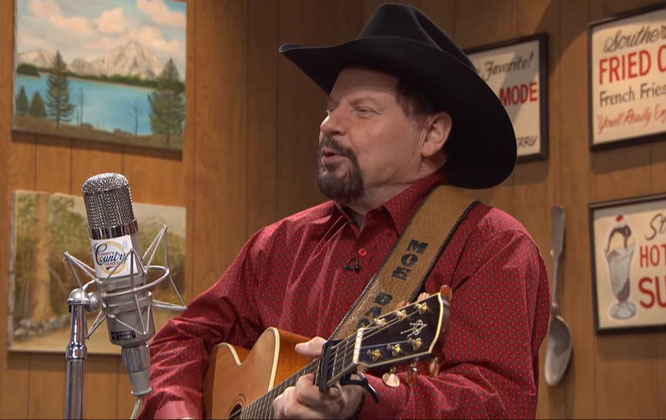 "Bandy the Rodeo Clown" is a song co-written and recorded by American country music artists Sanger D. Shafer and Lefty Frizzell, and made famous by Moe Bandy. It was released in June 1975 as the title track from his third album, and was his final single from GRC Records.
According to AllMusic journalist Stephen Thomas Erlewine, the song and its parent album began "to hint at the good-natured persona that would dominate his Columbia Records." The song casts Bandy as himself in the title role, a rodeo clown who laughs through heartache and the physical pain of the job.
Moe Bandy - Bandy the Rodeo Clown Lyrics
Who was once a bull hooking son of a gun?
Now who keeps a pint hid out behind chute No 1?
Who was ridin' high till a pretty girl rode him to the ground?
Any kid knows where to find me: I'm Bandy the rodeo clown
In the ridin' and a ropin' I was closin' in on No 1
Now in dreams at night I ride on that silver saddle I never won
Since she left me the whiskey takes me to the rodeo grounds
Where the cowboys think I'm handy, I'm Bandy the rodeo clown
I could ride 'em all, the bulls and the broncos knew I was boss
But the ride that woman took me on broke a whole lot more than this ole cowboy's bones
While the tears on my make-up melts my painted smile into a frown
The crowd thinks I'm a dandy, I'm Bandy the rodeo clown
And I could ride 'em all the bulls and the broncos knew I was boss