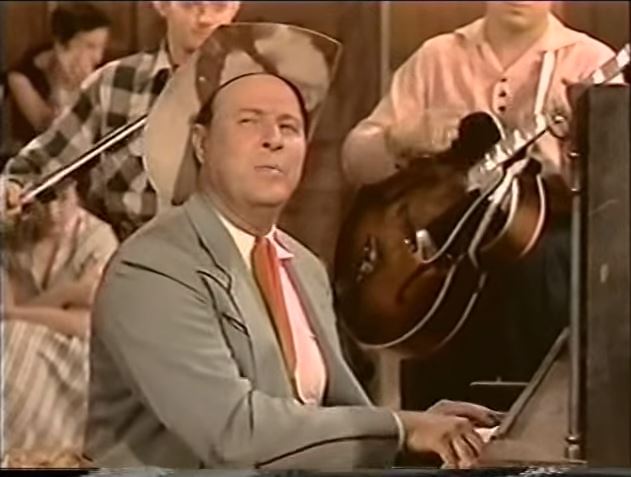 Moon Mullican performs "YI'll Say My Ship Alone ".Live Stars Of The 50's
"I'll Sail My Ship Alone" is a 1950 song written by Moon Mullican (sometimes credited as "Morry Burns"), Henry Bernard (sometimes credited as "Henry Glover"), Lois Mann (sometimes credited as "Sydney Nathan") and Henry Thurston, and popularized by Moon Mullican. The song was Mullican's most successful release, reaching number one on the Country & Western chart for a single week, and spending a total of nine months on the chart. "I'll Sail My Ship Alone" crossed over to the pop chart, reaching number seventeen. Patsy Cline also recorded this song on her last recording session, before she died in a plane crash. It was recorded by Jerry Lee Lewis in 1958 and by many others since such as Hank Williams, Skeets McDonald, Patsy Cline, Tiny Hill, Ferlin Husky, George Jones, Slim Whitman, Patrick Wall, Mickey Gilley and Leon Russell (as "Hank Wilson").
Moon Mullican I'll Sail My Ship Alone lyrics
We've been sweethearts for so long but now you say, "We're through!"
The love we shared is now a memory
I had built a ship of dreams and planned them all for you
And now I guess what is to be will be
I'll sail my ship alone with all the dreams I own
Drifting out across the ocean blue
I'll sail my ship alone though all the sails, you've torn
And when it starts to sink, then I'll blame you
I'm just like a ship at sea that's lost without a sail
The dark clouds hide the sun from up above
And even with these broken dreams my heart will never fail
For deep inside there's only one true love
I'll sail my ship alone with all the dreams I own
Drifting out across the ocean blue
I'll sail my ship alone though all the sails, you've torn
And when it starts to sink, then I'll blame you
I gave a message to the wind to take back home to you
Hoping you would hear my SOS
Maybe you would come back home my darling, if you knew
How much my aching heart is in distress
I'll sail my ship alone with all the dreams I own
Drifting out across the ocean blue
I'll sail my ship alone though all the sails, you've torn
And when it starts to sink, then I'll blame you