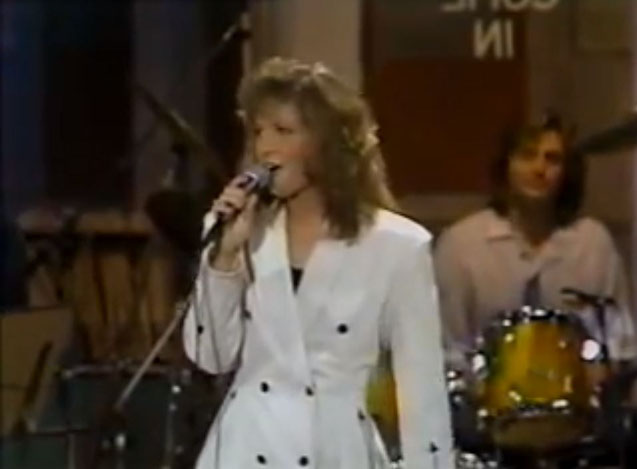 Patty Loveless performs "On Down The Line ",live video.
"On Down the Line" is a song written by Kostas, and recorded by American country music artist Patty Loveless. It was released in May 1990 as the first single and title track from her album On Down the Line.
The song came from a collection of songs written by Kostas. He was the writer of "Timber I'm Falling in Love" and many other tunes that Loveless recorded. When Tony Brown (Loveless' producer at the time) heard the song, he wasn't sure it was meant for her because of some of the lyrics in the third verse. While Loveless was recording it in the studio, actually putting the tracks down to the song, Kostas was rewriting the last verse. Once Brown heard this rewritten third verse, it just worked, it just absolutely worked and Loveless was very pleased how it turned out.
The song charted for 20 weeks on the Billboard Hot Country Singles and Tracks chart, reaching number 5 during the week of July 21, 1990.
Patty Loveless - On Down the Line lyrics
Tryin' to make a livin
That's the bottom line
It ain't easy tryin' to stretch
A nickle into a dime
Sweatin' for the dollar
Workin' for the man
Half goes to the
Landlord, Lord
And half to Uncle Sam
I can't get no consolation
I don't get no paid vacation
I can't get no satisfaction
And my tractor don't get no traction
Just doin' the best I can
Tryin' to make a stand
Laughin' and cryin'
Livin' and dyin' on down the line
I'll leave my soul to Jesus
I'll give my heart to you
And if you want the rest of me
Well, darlin you can have that too
Only love can save me
So darlin don't be late
If I don't get your lovin soon
I swear I'm gonna die today
I can't get no consolation
I don't get no paid vacation
I can't get no satisfaction
And my tractor don't get no traction
Just doin' the best I can
Just tryin' to make a stand
Laughin' and cryin'
Livin' and dyin' on down the line
If I were a rich girl
It wouldn't be the same
I'd buy me a cadilac
And then I'd change my name
A poor girls dream inside me
And you by my side
We drive into the sunset
Ride sweet baby ride
I can't get no consolation
I don't get no paid vacation
I can't get no satisfaction
And my tractor don't get no traction
Just doin' the best I can
Tryin' to make a stand
Laughin' and cryin'
Livin' and dyin' on down the line
On down the line
On down the line
On down the line