Just Someone I Used To Know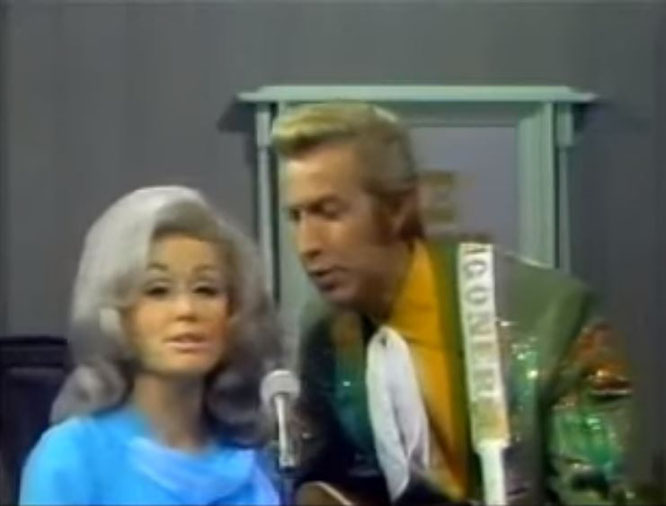 Porter Wagoner Show
His syndicated television program, The Porter Wagoner Show, aired from 1960 to 1981. There were 686 30-minute episodes taped; the first 104 (1960–66) in black-and-white and the remainder (1966–81) in color. At its peak, his show was featured in over 100 markets, with an average viewership of over three million.Reruns of the program air on the rural cable network RFD-TV and its sister channel in the UK Rural TV.
The shows usually featured opening performances by Wagoner with performances by Norma Jean, or later Parton, and comedic interludes by Speck Rhodes. During Parton's tenure, she and Wagoner usually sang a duet. Each episode also featured a guest who would usually perform one or two songs. A spiritual or gospel performance was almost always featured toward the end of the show; generally performed by either Wagoner or Parton, or the show's guest star, or occasionally the entire cast. After Dolly left the show, Porter began taping the show at Opryland USA in various locations around the park.
The shows had a friendly, informal feel, with Wagoner trading jokes with band members (frequently during songs) and exchanging banter with Parton and Howser. In 1974, Dolly Parton's song "I Will Always Love You", written about her professional break from Wagoner, went to number one on the country music charts.
Porter Wagoner & Dolly Parton - Just Someone I Used To Know
There's a picture that I carry
One we made some time ago
When they ask who's in the picture with me
I say just "Someone I use to know"
Just someone, I used to spend some time with
Just a flame, that's lost its glow
But I don't them of the nights I cried without you
I say just "Someone I use to know"
Just someone, I use to run around with
Just a friend from long ago
I don't tell them, how lost I am without you
I say just "Someone I use to know"
I say just "Someone I use to know"