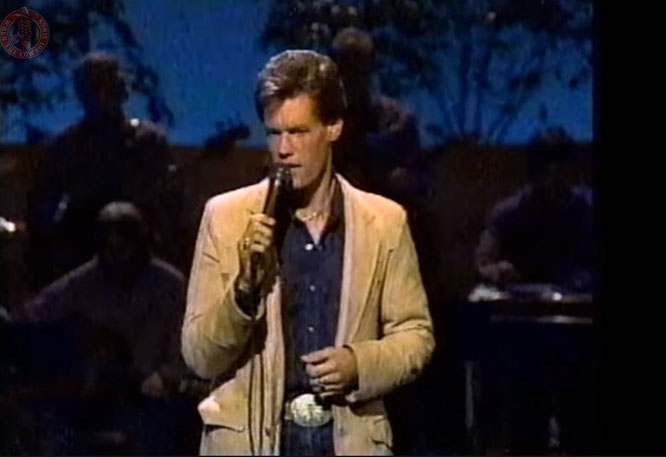 Randy Travis performs "1982"
"1982" is a song written by Buddy Blackmon and Vip Vipperman, and recorded by American country music singer Randy Travis. It was released in December 1985 as the second single from his album Storms of Life. It peaked at number 6 on the Hot Country Singles & Tracks (now Hot Country Songs) chart, and number 5 in Canada. According to the ASCAP, Garth Brooks has covered this song.
The song's narrator recalls a time when his former lover was all his back in the year 1982. According to American Country Countdown (1986 airing, Clear Channel network), the original title of this song was "1962." However, Travis said that he didn't feel comfortable singing about a love that he lost when he was only a little over two years old. He and producer Kyle Lehning revised the lyric to refer to 1982, as they felt it was more believable because it would have only been three years before the time of the recording.
Randy Travis 1982 Lyrics
Operator, please connect me with 1982
I need to make apologies for what I didn't do
I sure do need to tell her that I've thought the whole thing through
And now its clear that she is what I should have held on to
They say hindsight's twenty-twenty
But I'm nearly goin' blind
From starin' at her photograph and wishing she was mine
Its that same ole lost love story
Its sad but its true
There was a time when she was mine in 1982
Postman can you sell me a special kind of stamp
One to send a letter from this crazy lonely man
Back into the wasted years of my living past
I need to tell her now I know how long my love will last
They say hindsight's twenty-twenty
But I'm nearly goin' blind
From starin' at her photograph and wishing she was mine
Its that same ole lost love story
Its sad but its true
There was a time when she was mine in 1982
Losin' my mind, goin' back in time to 1982