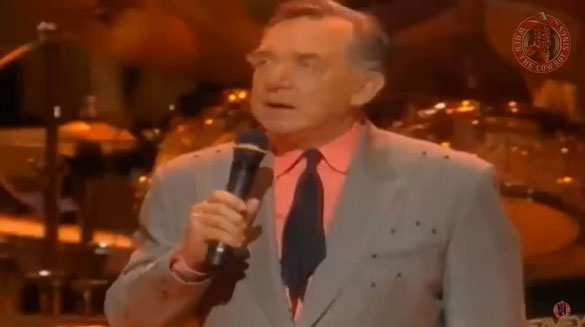 "San Antonio Rose"/"New San Antonio Rose" was the signature song of Bob Wills and His Texas Playboys. "San Antonio Rose" was an instrumental song written by Bob Wills, who first recorded it with the Playboys on November 28, 1938.Band members added lyrics and it was retitled "New San Antonio Rose".A fresh recording was made on April 16, 1940 (Okeh 05694) with a vocal by Tommy Duncan.
Recorded Jul 14, 1942, CBS Studio, 6121 Gower & Sunset Blvd., Hollywood, CA, mx: H 837
James Robert Wills (March 6, 1905 – May 13, 1975) was an American Western swing musician, songwriter, and bandleader. Considered by music authorities as the co-founder of Western swing,he was universally known as the King of Western Swing (although Spade Cooley self-promoted the moniker "King Of Western Swing" from 1942 to 1969).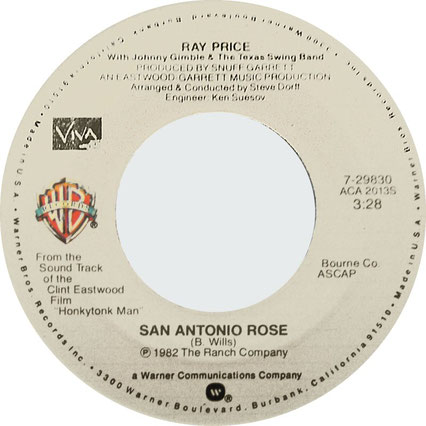 Ray Price - San Antonio Rose Lyrics
Deep within my heart lies a melody
A song of old San Antone
Where in dreams I lived with a memory
Beneath the stars all alone
It was there I found beside the Alamo
Enchantment strange as the blue up above
A moonlit pass that only she would know
Still hears my broken song of love
Moon and all your splendor knows only my heart
Call back my Rose Rose of San Antone
Lips so sweet and tender like petals fallin' apart
Speak once again of my love my own
Oh broken song empty words I know
Still live in my heart all alone
For that moonlit pass beside the Alamo
And calls my Rose of San Antone
Moon and all your splendor...