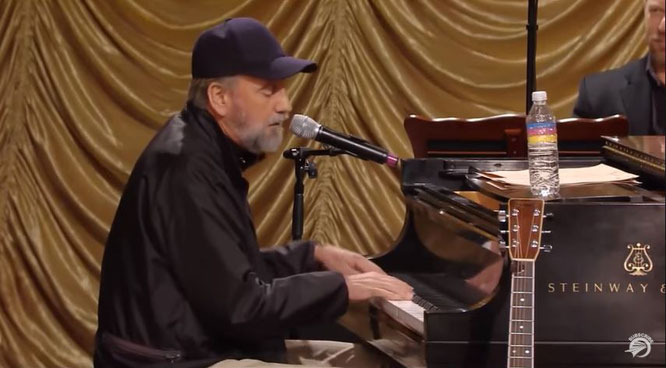 Ray Stevens performs "Everything is Beautiful"
"Everything Is Beautiful" is a song written, composed, and performed by Ray Stevens. It has appeared on many of Stevens' albums, including one named after the song, and has become a pop standard and common in religious performances. The children heard singing the chorus of the song, using the hymn, "Jesus Loves the Little Children", are from the Oak Hill Elementary School in Nashville, Tennessee. This group includes Stevens' two daughters. The song was responsible for two wins at the Grammy Awards of 1971: Grammy Award for Best Male Pop Vocal Performance for Ray Stevens and Grammy Award for Best Inspirational Performance for Jake Hess. Stevens' recording was the Number 1 song on the Billboard Hot 100 for two weeks in the summer of 1970. The song also spent three weeks atop the adult contemporary chart.Many country stations played the song, with it peaking at number 39 on Billboard's chart.Billboard ranked the record as the No. 12 song of 1970. The song includes anti-racist and pro-tolerance lyrics such as "We shouldn't care 'bout the length of his hair/Or the color of his skin."
This song was a major departure for Stevens, as "Everything Is Beautiful" is a more serious and spiritual tune, unlike some of his earlier ("Gitarzan" and "Ahab the Arab") and later ("The Streak") recordings, which were comedy/novelty songs.
Ray Stevens - Everything Is Beautiful lyrics
Jesus loves the little children
All the children of the world
Pretty yellow black and white
They are precious in his sight
Jesus loves the little children of the world
Everything is beautiful
In it's own way
Like a starry summer night
On a snow covered winter's day
And everybody's beautiful
In their own way
Under God's heaven
The world's gonna find a way
There is none so blind
As he who will not see
We must not close our minds
We must let our thoughts be free
For every hour that passes by
You know the world gets a little bit older
It's time to realize that people lies
In the eyes of the beholder
And everything is beautiful
In it's own way
Like a starry summer night
On a snow covered winter's day, ah sing it children
And everybody's beautiful
In their own way
Under God's heaven
The world's gonna find a way
We shouldn't care about the length of his hair
Of the color of his skin
Don't worry about what shows from without
But the love that lives within
We're gonna get old again now
Everything is gonna work out fine
Just take a little time to the calm good side my friend
And spittle in out in your mind
And everything is beautiful
In it's own way
Like a starry summer night
On a snow covered winter's day, ah sing it children
And everybody's beautiful
In their own way
Under God's heaven
The world's gonna find a way, one more time
Everything is beautiful
In it's own way
Like a starry summer night
On a snow covered winter's day