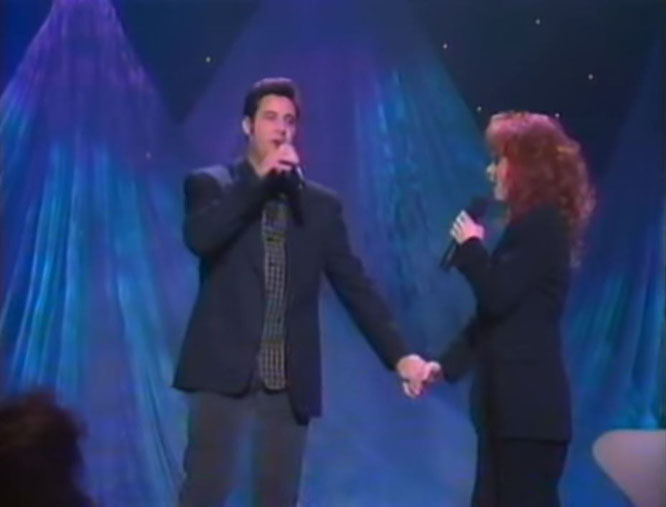 Reba McEntire And Vince Gill performs "The Heart Won't Lie" Live Video.
"The Heart Won't Lie" is a song written by Kim Carnes and Donna Terry Weiss, and recorded as a duet between American country music artists Reba McEntire and Vince Gill. It was released in February 1993 as the second single from Reba's album It's Your Call. The song reached the top of the Billboard Hot Country Singles & Tracks (now Hot Country Songs) chart.
"The Heart Won't Lie" as told by Reba: "Originally Kenny Rogers and I were looking at doing this song as a duet but we could never get it to sound just right because of the different ranges of our voices. Unfortunately, it just didn't work out. Later when I was working on a new CD, I remembered that song and called Kenny to see if he was recording it and if not, could I have it and he passed it along to me. We asked Vince Gill to sing the background harmonies on the song. Tony Brown, who was co-producing the CD with me, suggested letting Vince do more than just sing harmony on the song, so he took a couple of verses, and we decided to turn it into a duet.
Reba McEntire And Vince Gill The Heart Won't Lie
Looking back over the years
Of All the things I've always meant to say
But words didn't come easily
So many times through empty fears
Of all of the nights I tried to pick up the phone
So scared of who might be answering
You try to live your life from day to day
But seeing you across the room tonight
Just gives me away
Cause the heart won't lie
Sometimes life gets in the way
But there's one thing that won't change
I know I've tried
The heart won't lie
You can live your alibi
Who can see you're lost inside a foolish disguise
The heart won't lie
Long after tonight
Will you still hear my voice through the radio
Old desires make us act carelessly
Long after tonight, after the fire
After the scattered ashes fly
Through the four winds blown and gone
Will you come back to me?
You try to live your life from day to day
But seeing you across the room tonight
Just gives me away
Cause the heart won't lie
Sometimes life gets in the way
But there's one thing that won't change
I know I've tried
The heart won't lie
You can live your alibi
Who can see you're lost inside a foolish disguise
The heart won't lie