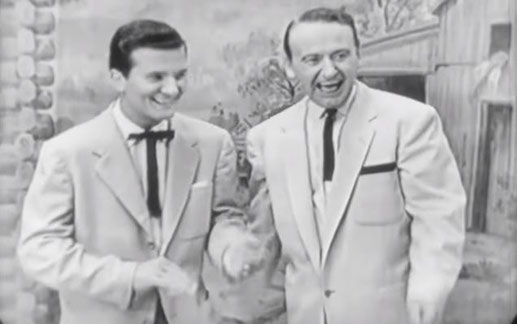 "Tennessee Saturday Night" is a Western swing ballad written by Billy Hughes. The song tells of Tennesseans having a good time on a Saturday night. Each verse ends with the refrain:
They all go native on a Saturday night.
Red Foley and the Cumberland Valley Boys had a hit with the song (Decca 45136), staying on the charts for 11 weeks; reaching number on March 19, 1949. Johnny Bond's recording (Columbia 20545) reached number 11 later that year.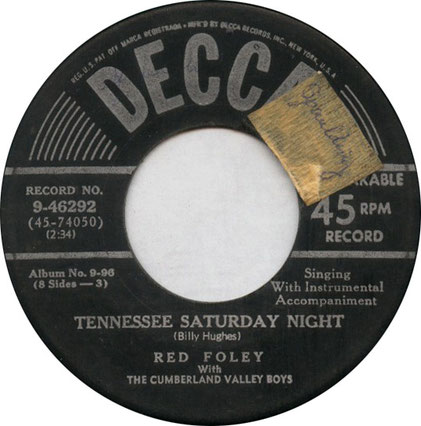 Red Foley - Tennessee Saturday Night Lyrics
Now, listen while I tell you about a place I know
Down in Tennessee where the tall corn grows
Hidden from the world in a bunch of pines
Where the moon's a little bashful and it seldom shines
Civilized people live there all right
But they all go native on Saturday Night
Oh, well the music is a fiddle and a cracked guitar
They get their kicks from an old fruit jar
They do the boogie to an old square dance
The woods are full of couples looking for romance
Somebody takes a brogan and knocks out the light
Yes, they all go native on Saturday night
When they really get together there's a lot of fun
They all know the other fellow packs a gun
Everybody does his best to act just right
Cause there's gonna be funeral if you start a fight
They struggle and they shuffle till broad daylight
Yes, they all go native on Saturday night.
Well, now you've heard my story about a place I know
Down in Tennessee where the tall corn grows
Hidden from the world in a bunch of pines
Where the moon's a little bashful and it seldom shines
Civilized people live there all right
But they all go native on Saturday Night