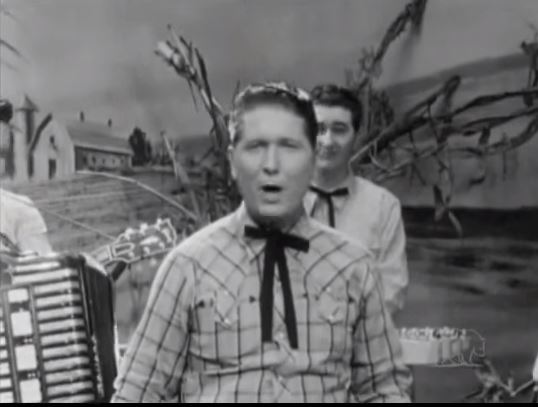 Redd Stewart performs "You Belong To Me"
"You Belong to Me" is a romantic popular music ballad from the 1950s. The singer reminds his or her beloved love interest, soulmate, or sweetheart that whatever exotic locales and sights he/she experiences, "you belong to me" no matter what happens.
"You Belong to Me" is credited to Pee Wee King, Chilton Price and Redd Stewart.
Price, a songwriting librarian at WAVE Radio Louisville, had written the song in its virtual entirety as "Hurry Home to Me" envisioning the song as an American woman's plea to a sweetheart serving overseas in World War II. Afforded songwriting credit on the song mostly in exchange for their work in promoting it, King and Stewart did slightly adjust Price's composition musically and lyrically, shifting the focus from a wartime background "into a kind of universal song about separated lovers" and changing the title to "You Belong to Me". Price had previously had success with another hit which she had written, "Slow Poke", under a similar arrangement with the two men.
You Belong to Me Lyrics
See the pyramids along the Nile
Watch the sun rise on a tropic isle
Just remember, darling, all the while
You belong to me
See the market place in old Algiers
Send me photographs and souvenirs
But remember when a dream appears
You belong to me
I'll be so alone without you
Maybe you'll be lonesome too....and blue
Fly the ocean in a silver plane
Watch the jungle when it's wet with rain
Just remember till you're home again
You belong to me