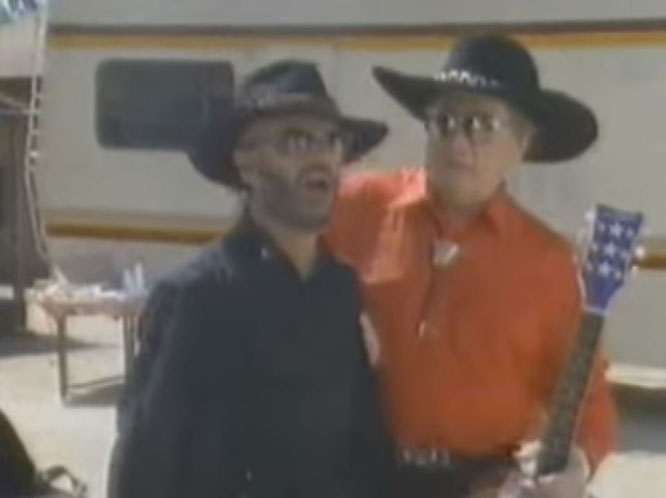 Ringo Starr & Buck Owens performs "Act Naturally"
"Act Naturally" is a song written by Johnny Russell and Voni Morrison, originally recorded by Buck Owens and the Buckaroos, whose version reached number 1 on the Billboard Country Singles chart in 1963,his first chart-topper. In 2002, Shelly Fabian of About.com ranked the song number 169 on her list of the Top 500 Country Music Songs.
The song tells the tale of someone who has been jilted and because of that, can play a film part of someone sad and lonely without knowing anything about acting. It has been recorded by many other artists, including Loretta Lynn, Dwight Yoakam, Mrs. Miller, and Kidsongs.The most well-known other version is from the Beatles in 1965. Featuring Ringo Starr taking the lead vocal, it became a featured performance number of his in concert, both with the Beatles and later with Ringo Starr & His All-Starr Band.
Ringo Starr & Buck Owens - Act Naturally Lyrics
They're gonna put me in the movies
They're gonna make a big star out of me
We'll make a film about a man that's sad and lonely
And all I gotta do is act naturally
Well, I'll bet you I'm a-gonna be a big star
Might win an Oscar you can't never tell
The movie's gonna make me a big star,
'Cause I can play the part so well
Well, I hope you come and see me in the movie
Then I'll know that you will plainly see
The biggest fool that's ever hit the big time
And all I gotta do is act naturally
We'll make a scene about a man that's sad and lonely
Begging down upon his bended knee
I'll play the part but I won't need rehearsing
All I'll have to do is act naturally
Well, I'll bet you I'm a-gonna be a big star
Might win an Oscar you can't never tell
The movie's gonna make me a big star,
'Cause I can play the part so well
Well, I hope you come and see me in the movie
Then I'll know that you will plainly see
The biggest fool that's ever hit the big time
And all I gotta do is act naturally