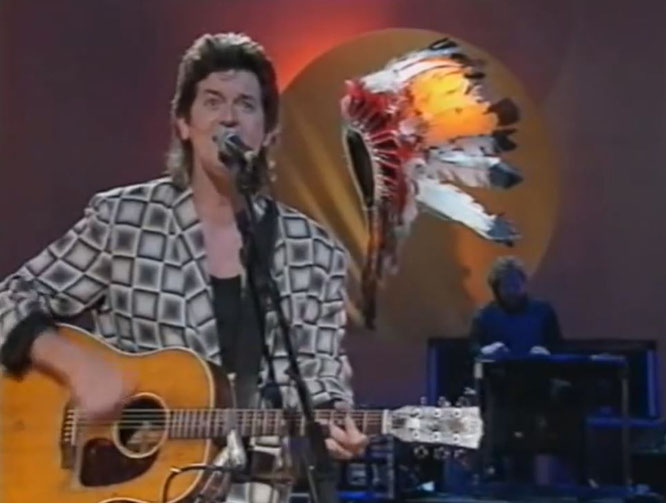 "Above and Beyond", also known as "Above and Beyond (The Call of Love)" is a song written by Harlan Howard and recorded by American country music singer Buck Owens. Released in 1960 as a single with "'Til These Dreams Come True" on the B-side, Owens' rendition reached No. 3 on the Billboard country singles charts that year. It was his third single.
In 1967, "Above and Beyond" was recorded by singer Wynn Stewart and was the title track of his 3rd album, which was on the Hilltop label.
In 1989, Rodney Crowell recorded a cover version on his album Diamonds & Dirt. This cover, released with "She Loves the Jerk" on the B-side, charted at No. 1 on the country chart in late 1989. It was the fifth consecutive No. 1 hit from the album, as well as the fifth and final No. 1 of his career.
Rodney Crowell - Above And Beyond Lyrics
Well, I'll give you love that's above and beyond the call of love
And I'll never ever make you cry
Yes, I'll give you love that's above and beyond the call of love
And love's something that money can't buy
Well a poor boys chances for a pretty girls glances
Are sometimes very few
Though I got no money if you'll be my honey
Here's what I'll offer you
Yes, I'll give you love that's above and beyond the call of love
And I'll never, ever make you cry
Yes, I'll give you love that's above and beyond the call of love
And love's something that money can't buy
Well, we met by chance and I knew in a glance
That I'd found my destiny
Now I want to carry you off and marry you if you will agree
And, I'll give you love that's above and beyond the call of love
And I'll never, ever make you cry
Yes, I'll give you love that's above and beyond the call of love
And love's something that money can't buy