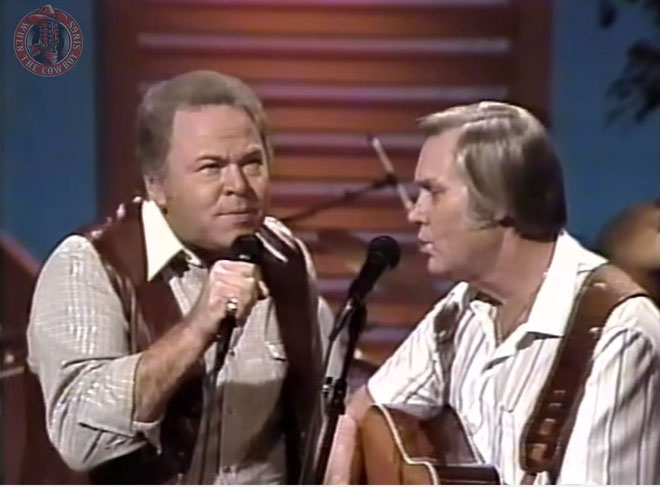 Roy Clark And George Jones performs "We Live in Two Different Worlds" on Hee Haw 1987.
This song appears on the George Jones album "George Jones & The Smoky Mountain Boys".Written by Fred Rose.
George Jones & The Smoky Mountain Boys is a studio album by American country music artists George Jones and The Smoky Mountain Boys, who served as Roy Acuff's long-time backing band.
The album was recorded in one session in the early 1970s but had remained unreleased. In the liner notes writer Bill Bentley states, "Finding these tapes now is like discovering a long-lost script that offers secrets from a long gone world The dozen selections are a peek into a precious freedom, and what a true pioneer can do when the music calls out to them George Jones recorded more albums than just about any other country singer, but he never made one like this This is the sound of music played by people who lived their lives serving the true spirit, and sung by a man who walked this world only once. " The album is composed of country classics and Gospel standards, several of them composed by Acuff, who was a profound musical influence on Jones. As Jones biographer Rich Kienzle observes, Acuff and his Smoky Mountain Boys "had an unforgettable dynamic: his fiddling and rough-edged, deeply emotional vocals were accompanied by a raw, traditional string ensemble." In a 2006 interview with Ray Waddell of Billboard, Jones stated, "I loved Roy Acuff with all my heart, and I never dreamed I'd be able to meet him or see him onstage, or especially become good friends with him." Acuff duets with Jones on his signature song "Wabash Cannonball . "
Roy Acuff We Live in Two Different Worlds lyrics
We live in two different worlds, dear, that's why we're so far apart
You made the world out of vows that are broken
I built the world in my heart
Everyone here tried to warn me, you were just playing a game
I told them all we were meant for each other
I thought our worlds were the same
If you stay over in your world, oh, how my poor heart will pine
Darling, one day when your memories wander
Won't you come over to mine?
We live in two different worlds, dear, my world is honest and true
Sweetheart, remember when your world gets lonely
I'll still be waiting for you