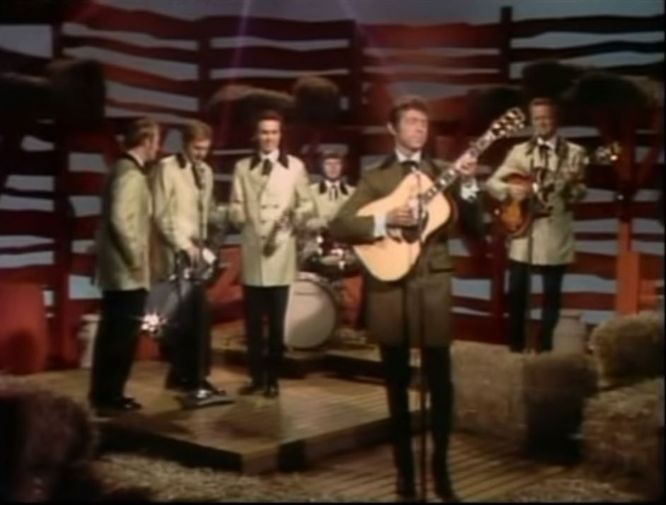 Sonny James performs "Bright Lights, Big City" Live Video on Hee Haw.
"Bright Lights, Big City" is a classic blues song which was written and first recorded by American bluesman Jimmy Reed in 1961. Besides being "an integral part of the standard blues repertoire", "Bright Lights, Big City" has appealed to a variety of artists, including country and rock musicians, who have recorded their interpretations of the song.
American country music singer Sonny James recorded "Bright Lights, Big City" in 1971. An early review included: "Jimmy Reed's blues number serves as strong material for the Southern Gentleman both vocally and for some exceptional guitar work".The song was James' fifteenth number-one hit in a row in the country chart as well as reaching number ninety-one in the pop chart. The song is included on James' 1971 album The Sensational Sonny James and several of his compilation albums.
Sonny James - Bright Lights, Big City lyrics
Bright light, big city, gone to my baby's head
Whoa, bright light, an'big city, gone to my baby's head
I tried to tell the woman, but she don't believe a word I said
It's all right, pretty baby, (gonna) need my help someday
Whoa, it's all right, pretty baby, gonna need my help someday
Ya' gonna wish you had a-listened, to some a-those things I said
Go ahead, pretty baby, a-honey, knock yourself out
Oh go ahead, pretty baby, honey, knock yourself out
I still love ya baby, 'cause you don't know what it's all about
Bright light, a big city, they went to my baby's head
Oh, the bright light, the big city, they went to my baby's head
I hope you remember, a-some of those things I said