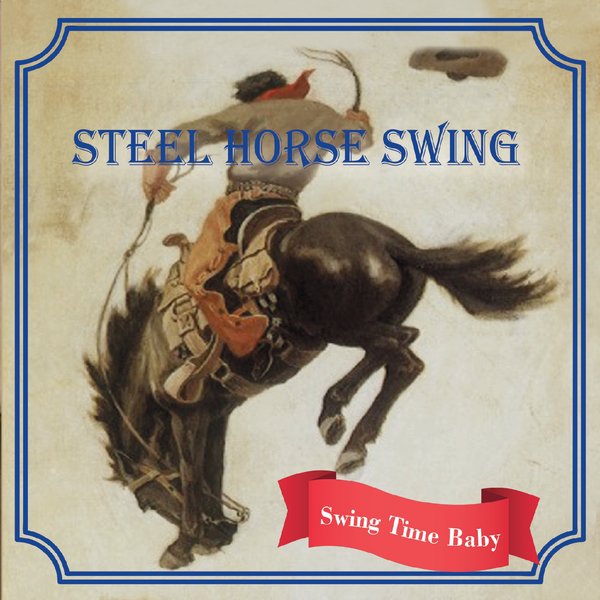 This is a wonderful new CD of 11 tunes that features this dynamic new Western Swing band. The band has spotlighted on vocal- Carlos Washington. Tom Broderick is the steel guitarist and also the lead guitarist on Kiss Me Baby, an original tune that was composed by Tom, Carlos and pianist Ed Gulon. Joel Denman plays fiddle, acoustic guitar and does harmony vocals. Kit Simon plays electric and rhythm guitar and does harmony vocals. Daniel Quisenberry is the drummer and Brad Van Loenen, the bassist. Randy McSpadden also plays electric and acoustic guitars and does background vocals.
The material is wonderful contemporary western swing. The album opens with Swing Time Baby, a future top 10 hit written by Carlos. The group then reprise the first of three lovely Joni Harms compositions and hits, I've Got a Feelin' For You. The other two gems penned by Joni are Put the Western Back in the Country and Cowboy Up.The group borrow Hey Good Lookin' from the country music world of Hank Williams and Let the Cowboy Dance from the Western music world of Michael Martin Murphey. Also borrowed from Western Music is Tom Russell's Bucking Horse Moon. Other tunes include A Diamond for Your Heart, the Garth Brooks classic, Wild Horses and from Ray Benson and Asleep at the Wheel, Dance With Who Brung You.
The CD is available at https://store.cdbaby.com/cd/steelhorseswing or you can also go directly to www.steelhorseswing.com and go to Music and click on the CD and it will take you to the same place. The Download version is $9.99. The CD is $15. They are also selling digital downloads of the individual songs for $0.99.
Mike Gross, KSEY-FM, Seymour, TX & KTNK-AM, Lompoc, CA
April 11, 2018
01 - Swing Time Baby
02 - I've Got a Feelin' for You
03 - Hey Good Lookin'
04 - Put the Western Back in the Country
05 - Let the Cowboy Dance
06 - A Diamond for Your Heart
07 - Kiss Me Baby
08 - Wild Horses
09 - Bucking Horse Moon
10 - Cowboy Up
11 - Dance with Who Brung You