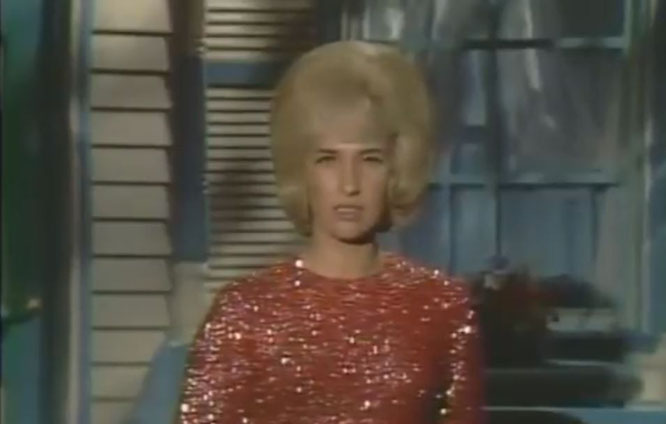 Tammy Wynette performs "I Don't Wanna Play House"
"I Don't Wanna Play House" is a song written by Billy Sherrill and Glenn Sutton. In 1967, the song was Tammy Wynette's first number one country song as a solo artist. "I Don't Wanna Play House" spent three weeks at the top spot and a total of eighteen weeks on the chart. The recording earned Wynette the 1968 Grammy Award for Best Female Country Vocal Performance.
In the song, the narrator, a young mother whose husband has left her, overhears her daughter describing to a neighbor boy their broken home, and informing him that she doesn't want to play house since, after observing her parents' troubles, she knows that it cannot be fun.
Tammy Wynette - I Don't Wanna Play House lyrics
Today I sat alone at the window
And I watched our little girl outside at play
With the little boy next door like so many times before
But something didn't seem quite right today
So I went outside to see what they were doing
And then the teardrops made my eyes grow dim
'Cause I heard him name a game and I hung my head in shame
When I heard our little girl say to him
I don't want to play house; I know it can't be fun
I've watched mommy and daddy
And if that's the way it's done
I don't want to play house; It makes my mommy cry
'Cause when she played house
My daddy said good-bye
I don't want to play house; I know it can't be fun
I've watched mommy and daddy
And if that's the way it's done
I don't want to play house; It makes my mommy cry
'Cause when she played house
My daddy said good-bye