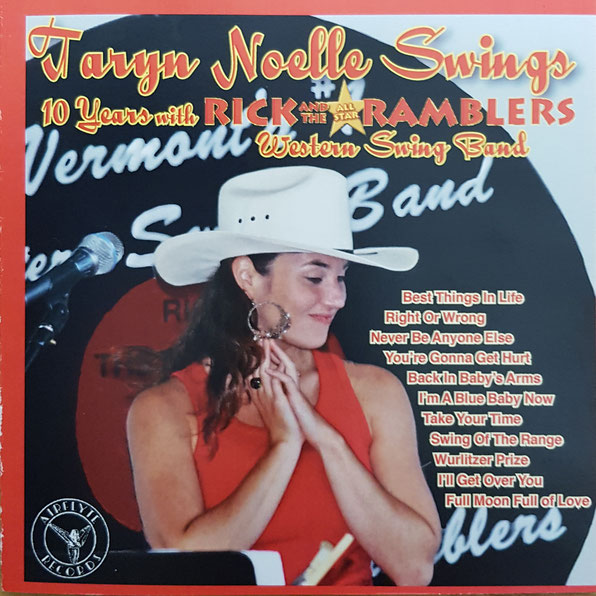 Taryn Noelle, a member of Rick and the Ramblers, the wonderful Vermont Western Swing Band of Rick Norcross, has a brand new CD of 11 tunes produced by Rick. Two of those tunes, You're Gonna Get Hurt and Take Your Time were written by Rick and feature him on duet or harmony vocal with Noelle. The album also features fiddle wizard Doug Reid and the lap steel, piano and accordion of Charlie MacFadyen. Dono Schabner plays both lead and rhythm guitar, Ian Koeller and Brett Hoffman are heard playing drums and Dave Rowell- harmony vocals and bass. Other harmony vocals are done by Amber deLaurentis, Juliet McVicker and Josie Ritter. Buck Maynard plays rhythm guitar.
The album opens with the pop standard The Best Things in Life and then Taryn pays tribute to Milton Brown and Bob Wills with Right or Wrong. Ricky Nelson is remembered with There'll Never Be Anyone Else But You and from Patsy Cline Back in Baby's Arms is reprised. Blue Baby Now is from Rick & The Ramblers Green Mountain Standard Time CD and Wurlitzer Prize is borrowed from the country music world of Waylon Jennings. I'll Get Over You is a memory from Crystal Gayle and Leroy Preston's Full Moon Full of Love is borrowed from Rick and the Ramblers. A real gem is Swing on the Range, a Johnny Marvin composition with a new verse created by Rick Norcross.
The album can be obtained for $15 plus $2.50 shipping and handling from Airflyte Records, 216 Battery Street, Burlington, VT 05401.
Mike Gross, KSEY-FM, Seymour, TX & KTNK-AM, Lompac, CA
March 27, 2018
The Best Things In Life
Right Or Wrong
There'll Never Be Anyone Else But You
You're Gona Get Hurt
Back In Baby's Arms
I'm A Blue Baby Now
Take Your Time
Swing Of The Range
Wurlitzer Prize
I'll Get Over You
Full Moon Full Of Love