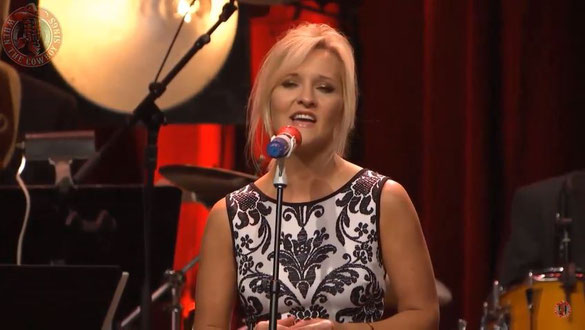 Teea Goans performs "(I'd Be A) Legend In My Time"live on The Dailey & Vincent Show 2018
Every so often there comes along a young artist who fully understands a genre's musical lineage and brings it full circle for those who may only have been exposed to it in a watered down form. Teea is uniquely positioned to accomplish that feat for traditional country, revitalizing a style often thought to be a mere relic of earlier days, and lighting a flame of enthusiasm in audiences.
From her first to her fourth and latest album, Swing, Shuffle & Sway, she draws from a neglected well to nourish her love for what some folks call traditional or authentic country. There's plenty of variety in that genre--Texas two-step grooves, countrypolitan strings, keening steel guitars, songs of praise, and songs of betrayal. On this project, you can hear that and much more.
Don Gibson I'd Be A Legend In My Time lyrics
If heartaches brought fame 
In loves crazy game 
I'd be a legend in my time 
If they gave gold statuettes 
For tears and regrets 
I'd be a legend in my time 
But they don't give awards 
And there's no praise or fame 
For a heart that's been broken 
Over love that's in vain 
If loneliness meant world acclaim 
Everyone would know my name 
I'd be a legend in my time 
If loneliness meant world acclaim 
Everyone would know my name 
I'd be a legend in my time