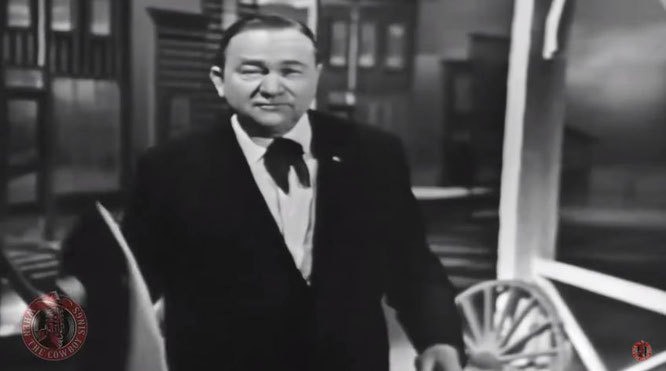 It is the theme song of the movie High Noon, sung over the opening credits by Tex Ritter, with its tune repeated throughout the film. It was awarded the 1952 Academy Award for Best Original Song,and was performed that night for the Academy by Ritter.The song is about the film's main character, Will Kane (played by Gary Cooper), and the moral dilemma of his new wife, Amy Fowler Kane (played by Grace Kelly), abandoning (or "forsaking") him because he chooses to stay and fight (and risk being killed) instead of running away with her after their wedding. The song refers to how he can't have a safe life with her until he has eliminated the threats that face him, and he wants her to stay with him just a while longer until it's all over and not give up on him for good. The song's lyrics significantly foreshadow the final set-piece of the film, in which Amy returns to help save Will, though this is only obvious on repeat viewings.
In the context of film music, "The Ballad of High Noon" is acclaimed not merely for its musical integration with High Noon's score, but also for expounding lyrically on the themes of honor and obligation which define the film.[citation needed] It is placed at #25 on "AFI's 100 Years...100 Songs". Members of the Western Writers of America chose it as one of the Top 100 Western songs of all time.
WIKIPEDIA
Tex Ritter High Noon lyrics
Do not forsake me, oh my darlin'
On this, our weddin' day
Do not forsake me, oh my darlin'
Wait, wait along
I do not know what fate awaits me
I only know I must be brave
And I must face a man who hates me
Or lie a coward, a craven coward
Or lie a coward in my grave
Oh, to be torn 'twixt love and duty
S'posin' I lose my fair-haired beauty
Look at that big hand move along
Nearin' high noon
He made a vow while in state prison
Vowed it would be my life or his'n
I'm not afraid of death but oh
What will I do if you leave me?
Do not forsake me, oh my darlin'
You made that promise as a bride
Do not forsake me, oh my darlin'
Although you're grievin', don't think of leavin'
Now that I need you by my side
Wait along, (wait along) wait along
Wait along, wait along 
(Wait along, wait along, wait along, wait along)