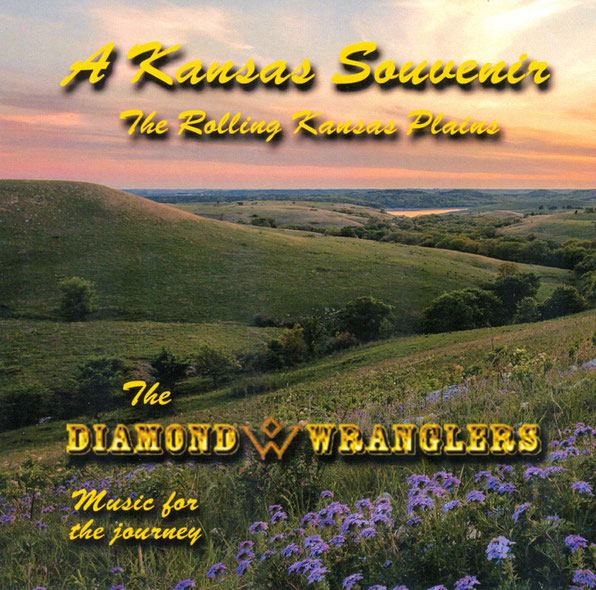 "The Diamond Dubs" once again prove themselves to be one of the classiest of the class acts with their new Kansas-themed release.  But they remain fresh enough to allow for some spontaneity  Mastered into their take of "Ghost Riders..." is the Kansas thunderstorm that arrived to interrupt their recording session!
Original picks include band member Stu Stuart's majestic title song "The Rolling Kansas Plains," Jim Farrell's "Trail Dust" and his loping "Full Gallop."  Among the covers chosen picks include Curly Musgraves' "Cowboy True," Kim Tribble & Bobby Whiteside's "Don't Ever Sell Your Saddle," Lerner & Loewe's "They Call The Wind Maria" and Charlie Daniels' "Billy The Kid" featuring the wildly outlaw electric guitar solo of Stu Stuart's that brings even hardened Western audiences to their feet!  Five of the songs are classics named a while back by WWA voters as being among the Top 10 Greatest Western songs.
DDW albums are always nicely annotated and informative.  Did you know Billy The Kid's mama was the only female signer of the original Wichita incorporation petition??
Recommended!  Fifteen tracks.    
CD:  (available through www.theDiamondW.com)
- by Rick Huff
The Rolling Kansas Plains 
Tumbling Tumbleweeds
(Ghost) Riders in the Sky
They Call the Wind Maria
Song of the Trail 
Streets of Laredo
Full Gallop 
Trail Dust
Ride Cowboy Ride
Cowboy True  
Cool Water  
Don't Ever Sell Your Saddle  
Billy the Kid  
Home on the Range
Happy Trails