All I Have To Do Is Dream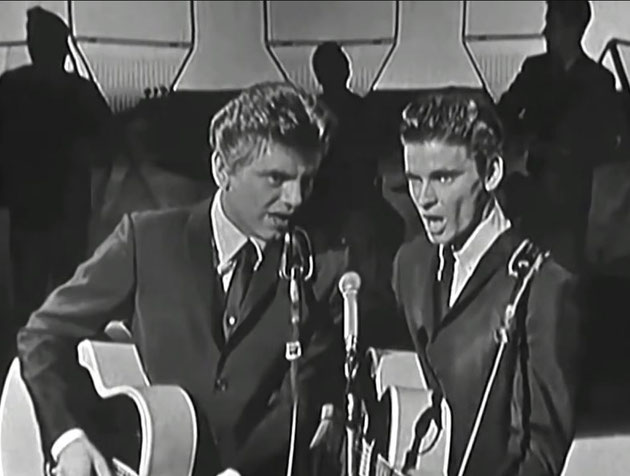 Everly Brothers performs "All I Have To Do Is Dream "
"All I Have to Do Is Dream" is a song made famous by the Everly Brothers, written by Boudleaux Bryant of the husband and wife songwriting team Felice and Boudleaux Bryant, and published in 1958. The song is ranked No. 141 on the Rolling Stone magazine's list of The 500 Greatest Songs of All Time. The song is in AABA form.
By far the best-known version was recorded by The Everly Brothers and released as a single in April 1958. It had been recorded by The Everly Brothers live in just two takes on March 6, 1958, and features Chet Atkins on guitar. It was the only single ever to be at No. 1 on all of the Billboard singles charts simultaneously, on June 2, 1958. It first reached No. 1 on the "Most played by Jockeys" and "Top 100" charts on May 19, 1958, and remained there for five and three weeks, respectively; with the August 1958 introduction of the Billboard Hot 100 chart, the song ended the year at No. 2. "All I Have to Do Is Dream" also hit No.1 on the R&B chart as well as becoming The Everly Brothers' third chart topper on the country chart.The Everly Brothers briefly returned to the Hot 100 in 1961 with this song. It entered the U.K. Singles Chart on May 23, 1958, reaching the No. 1 position on July 4 and remaining there for seven weeks (including one week as a joint No. 1 with Vic Damone's "On the Street Where You Live"), spending 21 weeks on the chart.
The Everly Brothers - All I Have To Do Is Dream Lyrics
Dream, dream, dream, dream
Dream, dream, dream, dream
When I want you in my arms
When I want you and all your charms
Whenever I want you
All I have to do is dream
Dream, dream, dream
When I feel blue in the night
And I need you to hold me tight
Whenever I want you
All I have to do is dream
I can make you mine 
Taste your lips of wine
Anytime night or day
Only trouble is 
Gee whiz
I'm dreamin' my life away
I need you so, that I could die
I love you so and that is why
Whenever I want you
All I have to do is dream
Dream, dream, dream, dream
I can make you mine
Taste your lips of wine
Anytime night or day
Only trouble is
Gee whiz
I'm dreamin' my life away
I need you so, that I could die
I love you so and that is why
Whenever I want you 
All I have to do is dream
Dream, dream, dream
Dream, dream, dream, dream
Dream, dream, dream, dream
Dream