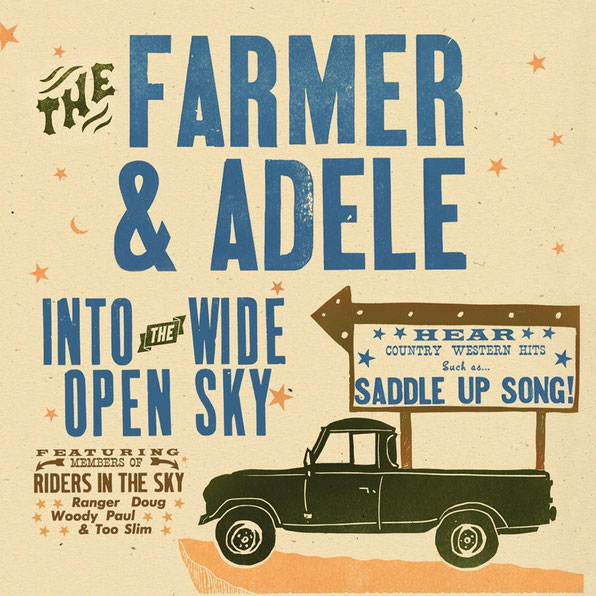 Review CD by Mike Gross "Swingin' West"
This is an eight tune CD by a new group comprised of two very talented musicians. Grace Adele does vocals and plays guitar and tap. Keenan Wade, also does vocals and plays mandolin and guitar. Joining them for this album are three legendary Riders in the Sky members, Ranger Doug- rhythm guitar and vocals, Too Slim- upright bass and vocals and Woody Paul- fiddle and vocals. Doug is also an integral part of the Western Swing super group, The Time Jumpers.
Seven of the eight tunes were written by Grace and Keenan. The remaining gem is a Merle Travis masterpiece borrowed from Hank Thompson and the Brazos Valley Boys, Too in Love. This one has Top 10 charting all over it again. The originals include the swinging Wrong Day and the western sounds of Saddle Up Song. The Texas dance hall sound can be heard on both What Would it Be Like and A Fool for Loving You. There is also Gone Long Gone and with top 10 possibilities all over it, Join the Dance. The album closes with Ranger Doug, Too Slim and Woody Paul in the spotlight on Words of Wisdom..
The CD can be obtained for $10 from www.everybodylovesthefarmerandadele.com It is also available from itunes and CDbaby.
Mike Gross, KSEY-FM, Seymour, TX & KTNK-AM, Lompoc, CA 
February 14, 2018
1 Wrong Day (feat. Woody Paul, Ranger Doug & Too Slim)
2 The Saddle Up Song (feat. Ranger Doug, Too Slim & Woody Paul)
3 What Would It Be Like (feat. Woody Paul, Ranger Doug & Too Slim)
4 Gone Long Gone (feat. Woody Paul, Ranger Doug & Too Slim)
5 A Fool for Loving You (feat. Ranger Doug, Too Slim & Woody Paul)
6 Too in Love (feat. Too Slim, Woody Paul & Ranger Doug)
7 Join the Dance (feat. Too Slim, Woody Paul & Ranger Doug)
8 Words of Wisdom (feat. Too Slim, Woody Paul & Ranger Doug)