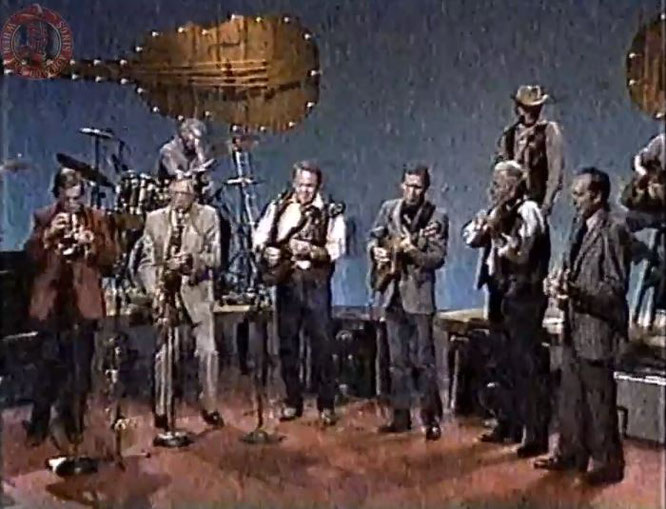 The Million Dollar Band was an all-star group of session musicians that often performed on the Hee Haw television variety show from August 1980 through November 1988.
The group's members included some of Nashville's most well-known virtuosos at their respective instruments: Chet Atkins, Boots Randolph, Floyd Cramer, Charlie McCoy, Danny Davis, Jethro Burns and Johnny Gimble, along with Hee Haw co-host Roy Clark. Many of them, at one time or another, were members of The Nashville A-Team, the list of session musicians responsible for creating the famous Nashville Sound. Of the group's eight members, only Clark and McCoy (the youngest of the group) are still alive as of 2016.
Its name made reference to the 1956 jam-session Sun Records impromptu group known as "The Million Dollar Quartet", which included Elvis Presley, Jerry Lee Lewis, Johnny Cash and Carl Perkins. Although it primarily played instrumental country music, the Million Dollar Band's jam sessions often included influence from jazz, blues, easy listening and other styles that reflected the diverse interests and instruments of the various musicians involved in the project.
Lead guitar - Chet Atkins
Rhythm guitar - Roy Clark
Mandolin - Jethro Burns
Fiddle - Johnny Gimble
Saxophone - Boots Randolph
Piano - Floyd Cramer
Harmonica - Charlie McCoy
Trumpet - Danny Davis
"Muskrat Ramble" is a jazz composition written by Kid Ory in 1926. It was first recorded on February 26, 1926, by Louis Armstrong and his Hot Five, and became the group's most frequently recorded piece.It was a prominent part of the Dixieland revival repertoire in the 1930s and 1940s, and was recorded by Bob Crosby, Roy Eldridge, Lionel Hampton, Woody Herman, Muggsy Spanier, Chet Atkins, Lu Watters, the Andrews Sisters, Harry James, and Al Hirt, among others.It is considered a part of the jazz standard repertoire.
Without Ory's consent, lyrics were written for the instrumental tune in 1950 by Ray Gilbert. After Gilbert protested that he was entitled to share credit with Ory, the American Society of Composers, Authors and Publishers awarded him one-third credit on all performances of "Muskrat Ramble", vocal and instrumental.