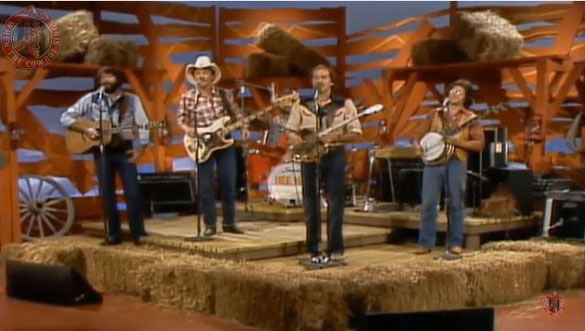 Mission Mountain Wood Band performs "Mountain Standard Time"on Hee Haw.
Song from Of Mission Mountain Wood Band'S Debut Album ''Mission Mountain Wood Band In Without Knocking'' Released In 1977. 
The Mission Mountain Wood Band, abbreviated M2WB, is an American bluegrass and country rock band formed in Missoula, Montana, US in 1971. They were noted for their vocal harmonies, multi-instrumental talent, and charismatic stage presence, particularly at Woodstock style regional concerts of the era such as the University of Montana's Aber Day Kegger. They spent time in New York City to further build their career, appeared on national television and toured 47 of the lower 48 states in a unique 1955 Greyhound Scenicruiser, performing up to 320 times a year both solo and as an opening act for other bands. The original five members were Rob Quist, Steve Riddle, Christian Johnson, Greg Reichenberg, and the late Terry Robinson, all of whom were UM students and born in Montana. Johnson was replaced with Kurt Bergeron by the time the band released their first album, In Without Knocking, in 1977. The band recorded two studio albums in their heyday, a third album after the band revamped as ''Montana'', released a compilation of their older work in 2005, and put out two albums with new content in 2011 and 2014.
Personnel changes resulting from the departure of several original band members resulted in Quist, Robinson and Bergeron reforming the group as The Montana Band in 1981. They had some national success and, described as "well-adapted to today's modern country sound," were being favorably compared to major groups of the time such as Alabama and the Oak Ridge Boys. After the departure of Quist, Terry Robinson was the only remaining original band member when a plane crash killed all then-members of the Montana band in 1987.
The surviving M2WB members reunited in 1992 and began to play periodic reunion concerts from that time forward, released a compilation of their work in 2005, and after adding new members to the band, produced two additional albums in 2011 and 2014. Their fan base and concert experience was compared favorably to that of the Grateful Dead. The band was the subject of a 2009 PBS documentary, Never Long Gone: The Mission Mountain Wood Band Story.