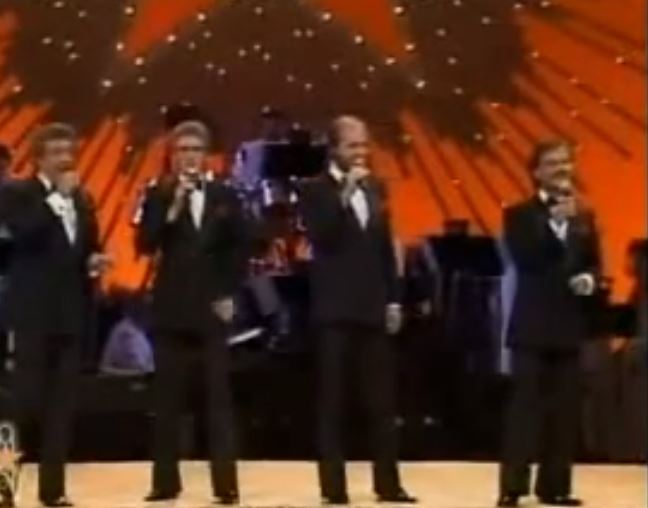 The Statler Brothers performs "Hello Mary Lou",Live Video.
"Hello Mary Lou" is a song written by U.S. singer Gene Pitney first recorded by Johnny Duncan in 1960 and later by Ricky Nelson in 1961.
Nelson's version, issued as the B-side of his No. 1 hit "Travelin' Man", (Imperial 5741), reached No. 9 on the Billboard music charts on May 28, 1961. In the United Kingdom, where it was released as an A-side (with "Travelin' Man" as the B-side), it reached No. 2. It was also a hit in much of Europe, particularly Norway, where it spent 14 weeks at No. 1. In New Zealand, the song reached No. 4.
A 1991 reissue following the song's use in a TV advert gave the song a second chart run, peaking at No. 45 in the UK Singles Chart.
The Statler Brothers - Hello Mary Lou Lyrics
Passed me by one summer day, flashed those big brown eyes my way
And oh, I wanted you forevermore
I'm not one that gets around, swear my feet's stuck to the ground
And though I never did meet you before
Hello Mary Lou, goodbye heart
Sweet Mary Lou, I'm so in love with you
I knew Mary Lou, we'd never part
So hello Mary Lou, goodbye heart
I saw your lips, I heard your voice, believe me I just had no choice
Wild horses couldn't make me stay away
I thought about a moonlit night, arms around you good an' tight
And that's all I had to see for me to say
Hello Mary Lou, goodbye heart
Sweet Mary Lou, I'm so in love with you
I knew Mary Lou, we'd never part
So hello Mary Lou, goodbye heart
Hello Mary Lou, goodbye heart
Sweet Mary Lou, I'm so in love with you
I knew Mary Lou, we'd never part
So hello Mary Lou, goodbye heart
So hello Mary Lou, goodbye heart