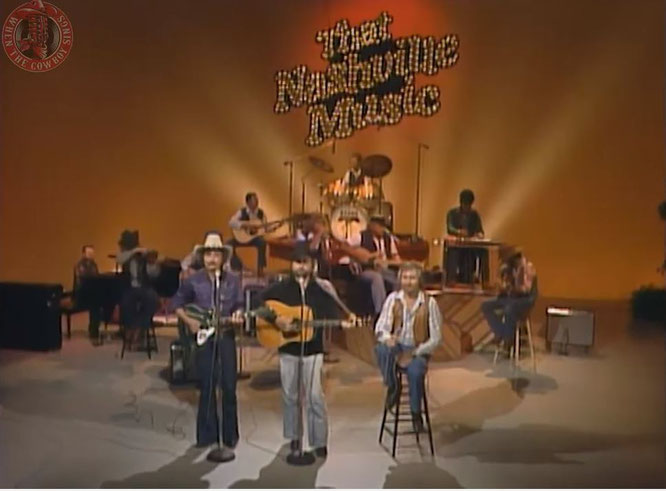 Tompall And The Glaser Brothers performs "A Mansion On The Hill" Live on That Nashville Music.
The details surrounding the origins of "A Mansion on the Hill" are ambiguous. For many years, an apocryphal tale circulated that after meeting Hank Williams and hearing his compositions, Fred Rose was so impressed that he could hardly believe that the unknown singer from Alabama could have written so many quality songs by himself, so he tested Hank by giving him the title "A Mansion on the Hill" to write a song around, which Hank did in a side room
Part of the reason why Williams had difficulty with "A Mansion on the Hill" might have been that he did not write narrative ballads, his best songs freezing a moment, a feeling, or a grudge in time.He wound up adapting the melody for the song from Bob Wills' 1938 recording of "I Wonder If You Feel the Way I Do." The song was recorded in Nashville at Castle Studio on November 7, 1947, with Rose producing. The players included Jerry Byrd (steel guitar), Robert "Chubby" Wise (fiddle), Zeke Turner (lead guitar), probably Louis Innis (bass) and either Owen Bradley or Rose on piano. It was released in December 1948 and peaked at #12.
Tompall Glaser and the Glaser Brothers released the song on their 1981 album Loving Her Was Easier.
Hank williams A Mansion On The Hill lyrics
Tonight down here in the valley
I'm lonesome and oh how I feel
As I sit here alone in my cabin
I can see your mansion on the hill
Do you recall when we parted
The story to me you revealed
You said you could live without loving
In your loveless mansion on the hill
I've waited all through the years love
To give you a heart true and real
'Cause I know you're living in sorrow
In your loveless mansion on the hill
The light shine bright from yer window
The trees stand so silent and still
I know you're alone with your pride dear
In your loveless mansion on the hill