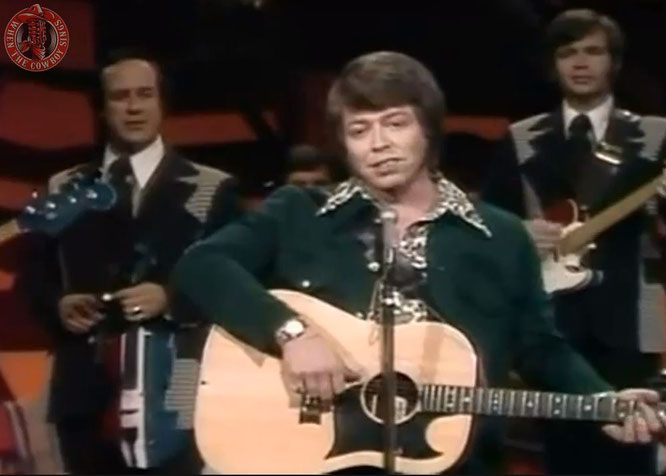 As a boy, Booth showed his talent by winning a contest in New Port Richey, Florida, for playing guitar at age 14. After high school, he attended the University of New Mexico with the intent of becoming a schoolteacher. But he decided to give music a try, and began his music career with the Mel Savage Band. Before long, he was touring with Jimmy Snyder.
Booth's first single, "Wishful Thinkin'" (backed with "I Think I Can") and album, Country '67 was released under the stage name "Johnny Booth" by Universal City Records in 1967. It featured a cover of Engelbert Humperdinck's "There Goes My Everything", a version of which had been released months earlier by Ray Price, one of Booth's longtime influences. The album, produced by Cliffie Stone, retains the vestigal sound of Rockabilly that country music was moving away from at that time, ironically toward the softer sound then being pushed by artists such as Price.
When his first album did not yield a chart position, Booth formed a band called Modern Country in 1968 and performed for a time in Las Vegas, Nevada before moving to Los Angeles, California. The band, which renamed itself the Tony Booth Band, became the house band at L.A.'s Palomino Club. He cut a single with K-Ark Records, "Big Lonely World" (backed with "It's Alright") but it also had no chart success.
Tony Booth They Key's in the Mailbox Lyrics
Oh the key's in the mailbox come on in
Oh jealous me and careless you the odds were just too great
I couldn't take those lonely nights you made me sit and wait
I thought I'd seen the last of you when you walked out of sight
Instead I see you in my dreams each night
Oh the key's in the mailbox come on in
I'm sitting here wishing dear I had your love again
I'll never even ask you where you've been
So the key's in the mailbox come on in
[ fiddle ]
I said I'd rather be alone than share your company
I said don't come around at all if you want more than me
But sitting here alone I can't deny the flame that burns
I'll gladly take you back on any terms
Oh the key's in the mailbox come on in...
Oh the key's in the mailbox come on in