It reached # 1 on the charts in the US Hot Country Songs, it remained 20 weeks on the list. The charts of Canada Country Tracks reached at number # 1, for two consecutive weeks. The song would be included in Trace's debut album, Dreamin 'Out Loud (Capitol 1996)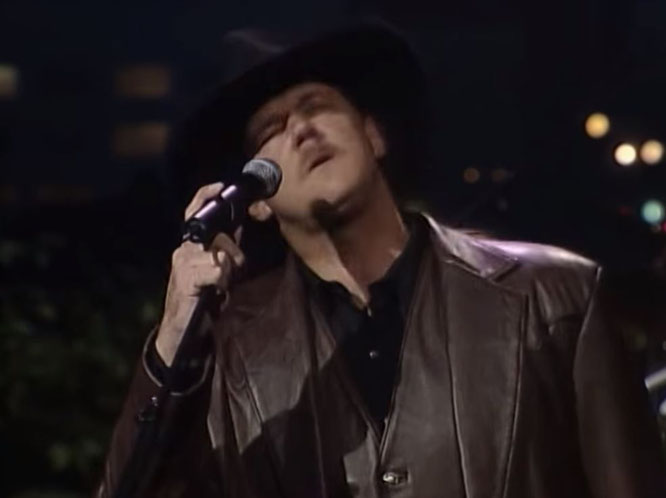 (This Ain't) No Thinkin' Thing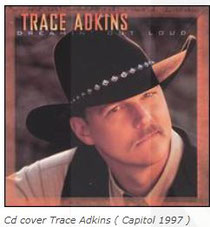 Song written by Tim Nichols & Mark D. Sanders, was recorded by Trace Adkins, for the Capitol Records label, between 1995-1996 at The Sound Shop; Nashville, TN, with the production of Scott Hendricks, was released on January 21, 1997, on April 5, 1997, it reached # 1 on the charts in the US Hot Country Songs, it remained 20 weeks on the list. The charts of Canada Country Tracks, arrived at April 21, 1997, at number # 1, for two consecutive weeks. It was the first number one of the career of Trace Adkins.
The song would be included in Trace's debut album, Dreamin 'Out Loud (Capitol 1996), the album released on June 25, 1996, reached number # 6 on the US Top Country Albums charts, the album was certified platinum record.
The inspiration for the song came to him, in one of his live performances he did in New York, at "Lone Star Café", a small club on 13th Street and Fifth Avenue in historic Greenwich Village. Closed in 1989, the Lone Star hosted a wide range of artists, including old rock and roll acts, blues musicians, ensembles of studio players, folk acts and country stars trying to build an audience in Manhattan The stage was so small, you could shake hands with the bartender. Hank hated this place. Back at his Florida home, the next morning he went fishing with his friend Dicky Betts, the Allman Brothers Band guitarist, while fishing, Hank had in mind the melody and the lyrics of the song (Dixie on my mind), soon had the lyrics written and the song recorded.
Hank's comment, about New York, did not please the citizens of the Big Apple, because he treated New Yorkers as "squirrels" and "porcupines", and his anti-Manhattan stance prevented him from getting a lot of diffusion in the two radio stations in the city at that time (now, there are no country stations there)
Miquel Batlle Garriga




mbatllegarriga@gmail.com
Trace Adkins – (This Ain't) No Thinkin' Thing Lyrics
I been thinkin' 'bout our love situation
All this attraction in the present tense
I've reached the only logical conclusion
Love ain't supposed to make sense
This ain't no thinkin` thing, right brain, left brain
It goes a little deeper than that
It's a chemical, physical, emotional devotion
Passion that we can't hold back
There's nothin` that we need to analyze
There ain't no rhyme or reason why
'Cause this ain't, this ain't no thinkin` thing
Forget mathematical equations
Self help psychology
Gray matter don't matter much darlin`
When it's gettin` down to you and me
This ain't no thinkin` thing, right brain, left brain
It goes a little deeper than that
It's a chemical, physical, emotional devotion
Passion that we can't hold back
There's nothin` that we need to analyze
There ain't no rhyme or reason why
'Cause this ain't, this ain't no thinkin` thing
There's nothing that we need to analyze
There ain't no rhyme or reason why
'Cause this ain't, this ain't no thinkin` thing
This ain't, no this ain't no thinkin` thing