"More Than You'll Ever Know" is a song written and recorded by American country music artist Travis Tritt. It was released in July 1996 as the lead-off single from his album The Restless Kind. It peaked at number 3 in the United States, and number 7 in Canada.
The song is a ballad, that paints the picture of a man coming to terms with his own emotions and struggling to convey the depth of his feelings to the woman in his life.
Deborah Evans Price, of Billboard magazine reviewed the song favorably, calling it a "sweet ballad that boasts some great lines." She goes on to say that his "heartfelt delivery on this tune should make it an instant success" and that the "country to the core instrumentation" is a good addition.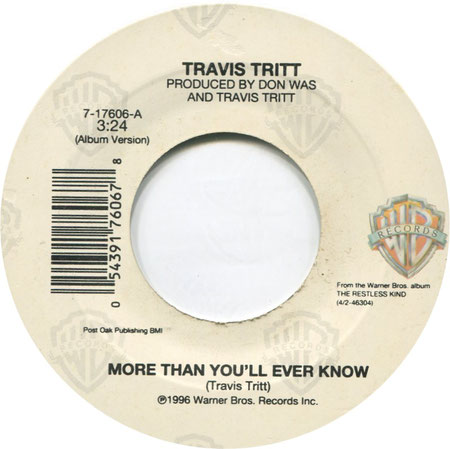 Travis Tritt - More Than You'll Ever Know lyrics
I know living with me ain't always easy
I dam up emotions some men just let flow
But girl when you're not by my side I feel a part of me has died
'Cause I love you more than you'll ever know
More than life more than I've ever loved before
It's absurd and beyond words
I couldn't want you more
And when I try to pour my hear out to you
I'm not sure it shows
That I love you more than you'll ever know
I'm sure you've heard it said hearts have windows
But mine has doors a painful past has closed
Unless someday they open wide revealing feelings locked inside
I'll love you more than you'll ever know
More than life more than I've ever loved before
It's absurd and beyond words
I couldn't want you more
When I try to pour my hear out to you
I'm not sure it shows
That I love you more than you'll ever know
Even when I pour my heart out to you
I'm not sure it shows
That I love you more than you'll ever know
Yes I love you more than you'll ever know