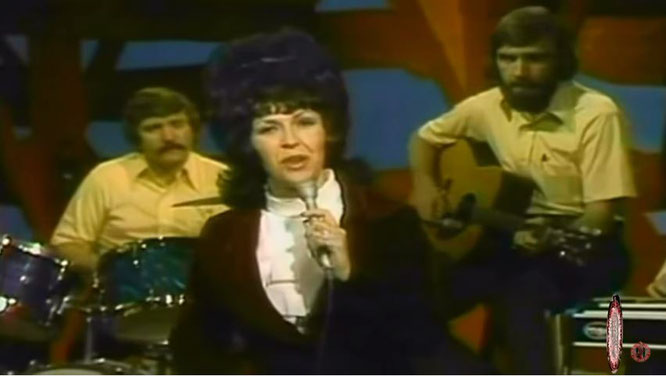 Wanda Jackson play Cowboy Yodel   on the Hee Haw show.
"Cowboy Yodel"is a country song featuring yodeling, written by written by Carson J. Robinson. It has been recorded by artists like Wanda Jackson and Margo Smith.
Wanda Jackson Cowboy Yodel Lyrics
There's a cowboy that I know ridin' in the rodeo
He's a feller that I'm fondest of
I love him and he loves me and that's the way it ought to be
But he drives me crazy when we're makin' love cause he always starts to yodel (yodel)
Well he always squeezed me at night while the moon was shinin' bright
And I knew I was under his spell
He was gazin' in my eyes and I was breathing pretty sighs
Then like Tarzan he'd let out a great big yell And he started into yodel (yodel)
Well when he led me down the isle I wore such a pretty smile
And my handsome cowboy wore a buckskin suit
When the parson said will you promise always to be true
My lover smiled and gently cleared his throat and he started to yodel (yodel).