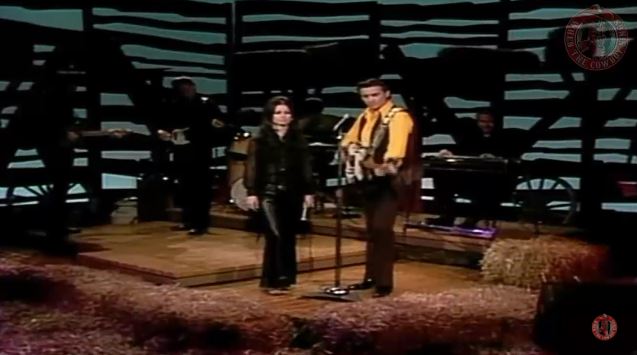 Waylon Jennings and Jessi Colter performs "I Ain't the One" Live on Hee Haw
The marriage of Jessi Colter and Waylon Jennings is one of the best love stories in country music. Colter helped tame Waylon's drug addiction, and the pair had a loving and musical partnership until Jennings passed in 2002.
Throughout their career, the pair recorded a handful of collaborative albums. In 1981, they released Leather and Lace, which featured what is arguably their best duet, "Storms Never Last." It's a song about passing through the hardships of marriage, and knowing that their love for one another will endure.
Waylon Jennings and Jessi Colter I Ain't the One lyrics
You're lookin' for someone
Who's got it all to give
You're lookin' for someone
Who won't care how you live
You're lookin' for someone
Who only lovin' you
I ain't the one, I ain't the one
I ain't the one, I ain't the one
Lookin' for someone
To dry your tears when you cry
Lookin' for someone
To turn his back each time you lie
You're lookin' for someone
To walk on then walk by
But I ain't the one, I ain't the one
I ain't the one, I ain't the one
I ain't the one who let you do
What you want to
I ain't the one who sits still
Let you be untrue
I ain't the one who'll go on lovin' you
No matter what you do
I ain't the one, I ain't the one
I ain't the one, I ain't the one
Just keep lookin' further down the road
You might find yourself someone
Who likes walkin' alone
Someone you'll play with
And leave dead by the road
I ain't the one, I ain't the one
I ain't the one, I ain't the one
I ain't the one, I ain't the one
I ain't the one, I ain't the one
I ain't the one, I ain't the one