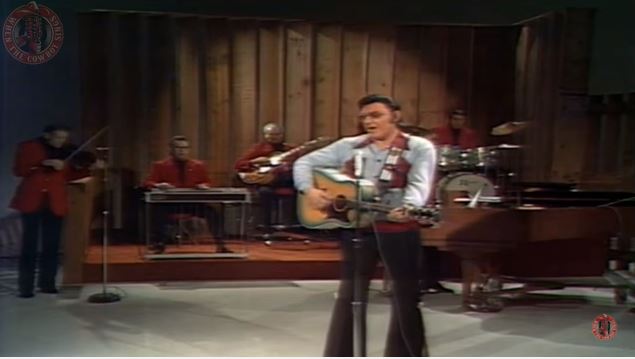 Webb Pierce Performs"Honky Tonk Song "Live Video.
Michael Webb Pierce (August 8, 1921 – February 24, 1991) was an American honky tonk vocalist, songwriter and guitarist of the 1950s, one of the most popular of the genre, charting more number one hits than any other country artist during the decade.
His biggest hit was "In the Jailhouse Now," which charted for 37 weeks in 1955, 21 of them at number one. Pierce also charted number one for several weeks each with his recordings of "Slowly" (1954), "Love, Love, Love" (1955), "I Don't Care" (1955), "There Stands the Glass" (1953), "More and More" (1954), "I Ain't Never" (1959), and his first number one "Wondering," which stayed at the top spot for four of its 27 weeks' charting in 1952. His iconic hit "Teenage Boogie" was covered by British singer Marc Bolan as "I Love to Boogie" in 1974, but strangely credited to Bolan and not Pierce. The music of Webb was also made popular during the British rockabilly scene in the 1980s and 1990s.
Webb Pierce Honky Tonk Song Lyrics
I got me a room
In a cheap hotel
My head was a spinnin'
And I didn't feel well
I laid right down
And tried to go to sleep
A band kept a playin'
In a joint underneath
I picked up my pillow
And I covered up my head
But the band kept a playin'
And a shakin' my bed
Honky tonk all night long
Honky tonk, same old song
Honky tonk, my money's all gone
Honky tonk, she done me wrong
I turned and I tossed
And I couldn't go to sleep
'Cause the band kept a playin'
With a honky tonk beat
Well, I'm so blue
My baby's gone
She took all my money
And left me all alone