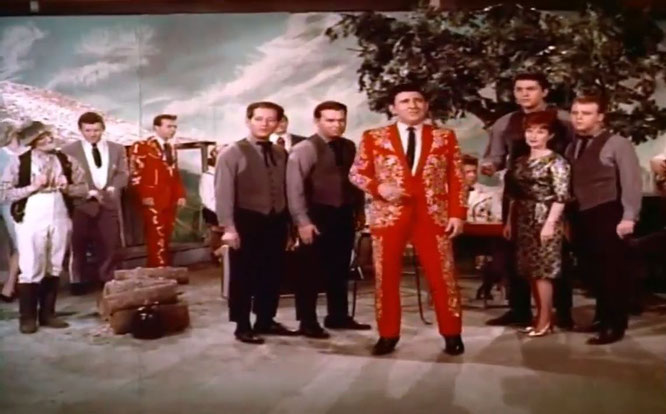 Webb Pierce performs " I Ain´t Never" on Second Fiddle To A Steel Guitar movie.
"I Ain't Never" is a song co-written by American country music artists Webb Pierce and Mel Tillis. Each co-writer recorded the song separately, with Pierce's 1959 recording and Tillis's 1972 version both becoming major country hits.
Pierce's version was released in 1959, eventually spending nine weeks at No. 2 on the Billboard Hot C&W Sides chart that year (held out by "The Three Bells (Les Trois Cloches)" by The Browns). The pop market accepted the Webb Pierce version, crossing it into the Billboard Top 40 and peaking at #24.Tillis's 1972 recording of the song was his first No. 1 hit on the Billboard Hot Country Singles (now Hot Country Songs) charts. The success of the 1972 version was limited to country music stations.
Webb Pierce - I Ain´t Never lyrics
Welllllllllll, I ain't never
I ain't never
A-seen nobody like you
No no no
Never, have I ever
A-seen nobody like you
You call me up and say you'll meet me at nine
I have to hurry, hurry but I'm there on time
I walk right up and knock on your door
The landlord says she ain't here no more
I ain't never, oh darling
A-seen nobody like you
Boo-hoo but I love you
Yeah I love you
I love you just the same
Well you tell me sweet things that you don't mean
You got me livin' in a honey dream
You make me do things I don't wanna do
My friends'll say, "Webb what's wrong with you?"
I ain't never, oh darling
A-seen nobody like you
Boo-hoo but I love you
Yeah I love you
I love you just the same
I love you just the same
I love you just the same