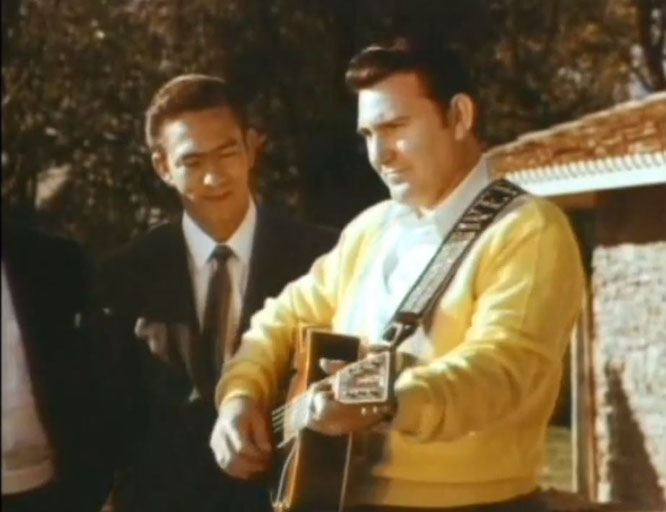 Webb Pierce performs "Memory #1",live video.
Michael Webb Pierce (August 8, 1921 – February 24, 1991) was an American honky tonk vocalist, songwriter and guitarist of the 1950s, one of the most popular of the genre, charting more number one hits than any other country artist during the decade.
His biggest hit was "In the Jailhouse Now," which charted for 37 weeks in 1955, 21 of them at number one. Pierce also charted number one for several weeks each with his recordings of "Slowly" (1954), "Love, Love, Love" (1955), "I Don't Care" (1955), "There Stands the Glass" (1953), "More and More" (1954), "I Ain't Never" (1959), and his first number one "Wondering," which stayed at the top spot for four of its 27 weeks' charting in 1952. His iconic hit "Teenage Boogie" was covered by British singer Marc Bolan as "I Love to Boogie" in 1974, but strangely credited to Bolan and not Pierce. The music of Webb was also made popular during the British rockabilly scene in the 1980s and 1990s.
Webb Pierce Memory #1 lyrics
You're my mem'ry No 1
I've got lots of golden memories of a million things I've said and done
But when I seperate them darling you're my mem'ry No 1
I've called lots of other sweethearts and I admit I've had some fun
But when I stop and think of true love you're my mem'ry No 1
Even fools sometimes get lonesome
And I guess that's what this fool has gone and done
For tonight I'm thinking of old mem'ries and you're my mem'ry No 1
[ piano ]
Even fools sometimes...